Making streets safer for children

A School Street is closed to motor vehicles at drop-off and pick-up times which makes the road safer and less polluted for children and parents walking, cycling and scooting to school.

The vast majority of children don't get to school by car but still have to deal with the dangers of cars outside the gates.

This is an important part of cleaning up the borough's air and becoming carbon neutral, particularly where it affects children.

Not using a car to take or collect children from school will:

encourage more exercise, which will help reduce child obesity
reduce congestion around schools at peak times
reduce road traffic collisions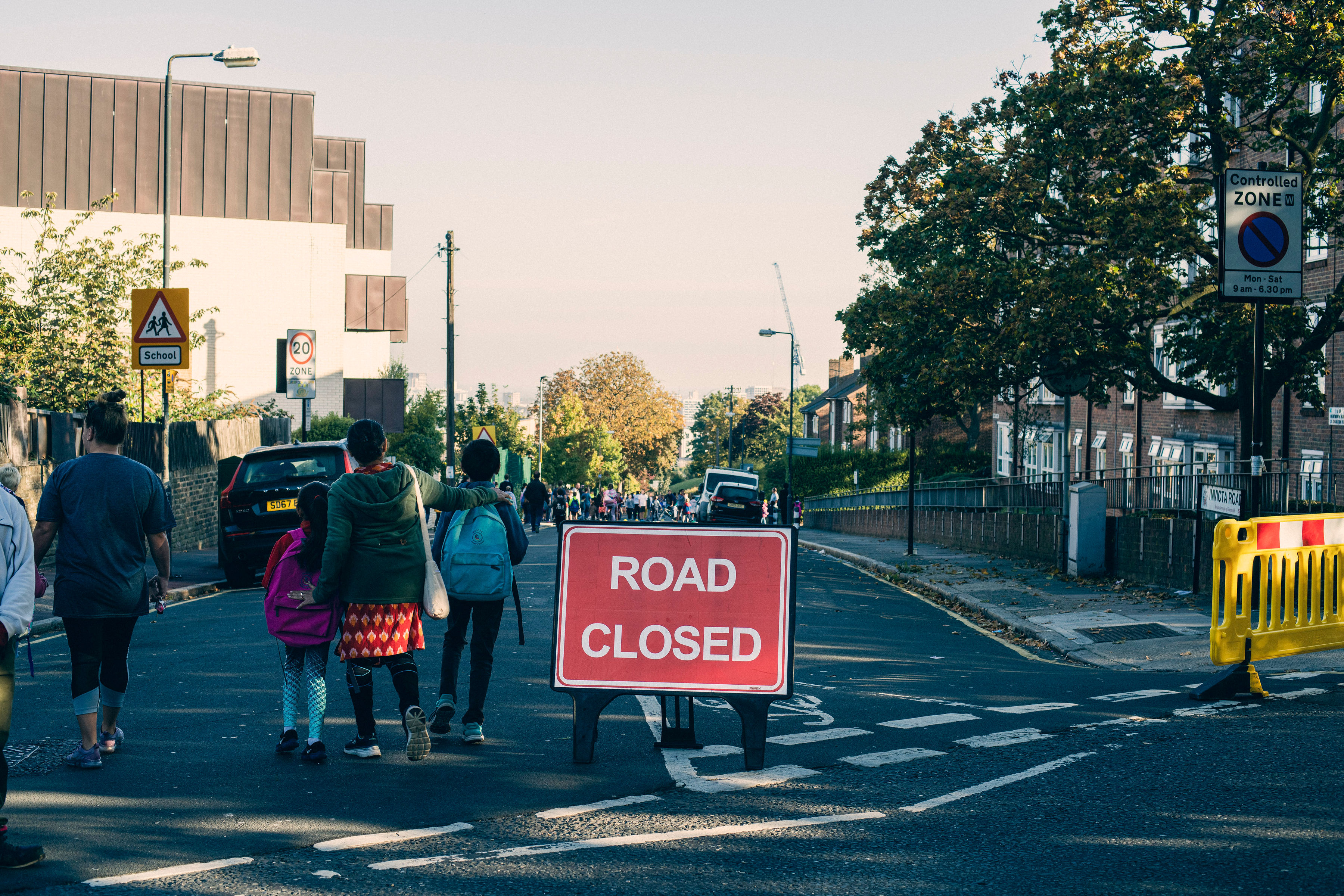 The impact of COVID-19

School Streets also support the need to maintain social distancing. As well as working on major improvements to town centres and other key locations, we need to ensure pupils have space to walk, cycle and social distance safely as they return to school. To help us do this we are rapidly expanding our School Streets programme.

About Royal Greenwich's School Streets

As part of our work to encourage safe, active and sustainable travel to school, we work with schools to create School Streets. A School Street is closed to motor vehicles at drop-off and pick-up times.

Which schools in Royal Greenwich already have a School Street?

There are four permanent School Streets in Royal Greenwich: De Lucy Primary School, Haimo Primary School, Gordon School and St Joseph's Primary School.

Trial School Streets currently being consulted on

In response to the need to maintain social distancing for the foreseeable future and the need to accommodate a significant increase in cycling and walking six emergency School Streets have been launched since summer 2020. Click the links below the map for detailed drawings of the maps.

Charlton Manor Primary School – launched 15 June 2020
Invicta Primary School (Blackheath) - launched 6 July 2020
Wyborne Primary School - launched 7 October 2020
Montbelle Primary School – launched 11 November 2020
Deansfield Primary School – launched 11 November 2020
St Thomas More Catholic Primary School – launched 15 March 2021
Invicta Primary School (Deptford) - launching 28 June 2021

See the map below for all the permanent School Streets and ones being trialed in Royal Greenwich.

How School Streets work

School Streets become pedestrian and cycle-only zones during term time at:

8am to 9.30am
3pm to 4pm

During these times the road, or section of the road, is closed to motor vehicles by bollards operated by the school. School staff are available to allow access for emergency vehicles and blue badge holders. Residents who live on a School Street are encouraged to avoid coming and going during the closures but should contact the school for access in emergencies.

The trial School Streets are controlled by experimental Traffic Regulation Orders which allow us to trial the scheme, to see how well it works. This gives local residents, parents and pupils the chance to help us improve the way they work.

During the experimental trial phase, we ask parents and local residents to complete a short online survey to tell us how they think the School Street is working. The responses are then analysed and inform our decision on whether to keep the School Street, either as it is or in a modified form.

Local residents we want your views too

We understand that the school community has an impact on local residents and the Council works with each school to encourage parents to walk and cycle to school, run road safety awareness programmes and tackle illegal parking.

This is an opportunity for you to see School Streets in practice and contribute your views. We feel that this initiative will go a long way to making streets safer and healthier for our children by alleviating congestion, deterring unnecessary short trips by car, and causing disruption for local residents.

Deadlines for feedback
30 July 2021 (noon) Charlton Manor, Montbelle, Invicta (Blackheath), Deansfield and Wyborne
29 October 2021 (noon) St Thomas More
7 January 2022 (noon) Invicta (Depftford)

Responses received after the deadlines will be discounted.

How can I request my school if it's not already on the list?

Schools that are interested in having a school street can contact us directly.

How do I keep up to date on upcoming School Streets in my area?

If you would like to be kept up to date of new School Streets and Low Traffic Neighbourhood schemes that are being implemented and are open for feedback, please sign up for notifications on the Latest News page of this website.